Current Local Weather Conditions in Buxton, Derbyshire, UK - Updated Every 5 minutes
For Local People, Visitors, Hill Walkers, Ramblers, Climbers, Hot Air Balloon Pilots, Cavers, Holiday Makers, Anglers, Kayakers Canoeists, Paraglider Pilots, Horse Riders, & Lovers of the great Outdoors and "Expats" - And now "Metal Detectorists!" (Just a sample of some of the thousands who have emailed in about this site!) (Thank you for all the many comments received - Michael Hilton, mh@22mh.com )
.... Weather Forecast for Buxton & The Peak District: ...

----- If you click on any of the tiny google adverts, on this page, in which you may be interested - then Google pay me a penny or so! (I stress that it costs you nothing at all, of course!). That makes a little money each week, which helps with the costs of Cameras, Weather Equipment, Sensors etc, IT Equipment, and Website Hosting for the website - PLEASE do not think I am begging! ...........I am delighted, that you have visited buxtonweather, whether you click on an ad or not! ... Michael -----
*** ***
-----Please send me any traffic reports, which may help your fellow travellers - CLICK HERE mh@22mh.com --.....
............Terrace Road and High Street Buxton EXPECT DELAYS!! :......"Preparation work is being carried out Wednesday 25th May before the surface dressing of Terrace Road and High Street is scheduled for Thursday 26th and Friday 27th May." Thank you Patrick Wright for this update
AND ..The A57 Snake Pass will be closed from 9.30am to 3.30pm on Monday, June 6, for the surface dressing to take place.
AND ....THIRTEEN BENDS NEAR BASLOW " Junction of A619, A6020 & B6048 (top of Thirteen Bends) closed to all traffic until 29/5. Diversion (although not for HGVs - their diversion is north on A6, then A623), along B6001 Hassop to Calver Sough, then A623 to Baslow. Chatsworth & Chatsworth Farm Shop only accessible from B6012 (Baslow to Rowsley road)." Thank you Andy Rolland for this update.............
..............Weather Forecast from www.buxtonweather.co.uk -
Wednesday Evening and Night: any remaining daytime showers clearing to a dry but fairly cloudy evening and nighttime - moderate south westerly winds - Minimum temperature 9°C.
Thursday:
Thursday: a cool and cloudy day with patchy showers, some could be heavy - quite lively westerly winds - Maximum Air Temperature 14°C.
Thursday Evening and Night: daytime showers tending to clear into early evening to a mainly dry evening and nighttime with some bright and then clear periods developing - moderate north westerly winds - Minimum temperature 8°C.
Friday:
Friday: mainly dry but fairly cloudy - some limited brighter periods developing later - quite lively westerly winds - Maximum Air Temperature 14°C.
Friday Evening and Night: a mainly dry but cool and fairly cloudy evening and nighttime - moderate north westerly winds - Minimum temperature 7°C
Outlook for Saturday to Monday:
Saturday: mainly dry with some limited brighter periods - fairly light north westerly winds - Maximum Air Temperature 15°C. Sunday: cool and mainly dry but cloudy - light north easterly winds - Maximum Air Temperature 11°C. Monday: cool with scattered showers and some drier brighter periods - light north easterly winds - Maximum Air Temperature 11°C. ...................
...HELP PLEASE!! The Buxton Well Dressings are going ahead in full this year with a full program or events - Wells Dressed on Sunday 3rd July, James Mellor Funfair on the Market Place from Wednesday 6th July and our Carnival Procession on Saturday 9th July. The Carnival Day needs you help! – we do gain some support from the Police on the day, but we are responsible for "Marshalling" the Carnival Parade – could you please spare a few hours on the day to assist with crowd management and our road blocks? – without marshals we cannot go ahead – and we have to be able to demonstrate that we CAN safely manage events on the day. If you come to help, you will be helping in a group at various points along the route, not on your own! PLEASE email Richard : chair@buxtonwelldressing.co.uk (Or to me mh@22mh.com )


AND - I am sure we all remember the fabulous sight in July 2021, of the Battle of Britain Memorial Flight Spitfire, flying circuits low over the town - it was here to celebrate Buxton Well Dressings (which was postponed in 2021) and the Buxton International Festival. ........I have been liaising with The RAF and The Battle of Britain Memorial Flight and they have now confirmed that they will once again do a "Flypast" over Buxton on Saturday July 9th 2022 - again to celebrate both the Buxton International Festival and The Buxton Well Dressings – this time a BBMF Hawker Hurricane will do the honours – The Hawker Hurricane played a vital role in The Battle for Britain – The Hurricane, powered by the same Rolls Royce "Merlin" engine as The Spitfire, will always be remembered for the vital role it played, with its partner the Spitfire, in hectic battles during the summer of 1940. Hurricanes destroyed more enemy aircraft during the Battle of Britain than did all the other air and ground defences combined..........


After three weeks of intermittent nest building, by a Blue Tit, in one of the bird boxes in our garden in Harpur Hill, Buxton, the nest has looked "ready" for a few days, into the end of April 2022, and today Monday May 2nd we have one egg!! - .....Well, after the nest with one egg looking chaotic through Wednesday, and little sign of mother all day (nor partner either in the area), blue tit came back at dusk and we have woken on Thursday May 5th to what looks like possibly three eggs - a little worrying that bird seems to leave them for such long periods ...................... Friday 6th April - we now have four eggs - still a worry that blue tit is spending long periods away in daytime - and we have not spotted a partner in the area ...........Saturday May 7th - we seem to have five eggs - the eggs look quite big on the live stream - they are TINY! - they measure about 9mm longways - about 3/8" - the size on your small fingernail!. Mother is spending all night and a little more daytime in the box AND we have seen partner bringing food on some occasions today (see May 7th pic above) - .........Sunday May 8th - we have six eggs! .........................Monday 9th we have seven eggs - mother spending a good deal of time in the box - would like to see father a little more feeding! .....By Thursday May 12th, we still have seven eggs - Mother is sitting all night and much of the day and Father is calling sometimes with food - and we have seem him fending off sparrows near the nest box -- SO things are looking "Interesting" - - will we have "duds" (we have had that before!) ..... And the really difficult bit will start if we get chicks - BUT ......"hope springs eternal" .... NOW Friday May 20th - I mentioned that we have had camera feeds from nestboxes around our garden for many years and my dear wife Margaret has kept a diary of progress every year - I noted this wrongly, as to WHEN eggs actually hatch, it is usually at around 14 - 15 days AFTER THE WHOLE CLUTCH IS LAID - of course this makes sense - if one chick hatched days before the others it would always win in the food wars which follow! - RESULT!! - we have a first chick late Saturday afternoon May 21st - now the hard work starts ! ....Now Sunday May 22nd and more hatching early this morning - three hatched now - naked, pink, blind and helpless! - mother eating the egg shells (great source of calcium!) Father bringing food - NOW Sunday early evening May 22nd, another hatched - mother eats the egg almost before hatching finished! - now four chicks - Monday May 23rd now five chicks hatched - see photo - hard work from now on - as they grow a little, each chick can eventually eat up 100 caterpillars a day, so to feed a brood of six or seven, adults need to find as many as 600 caterpillars a day! Adults also need to remove the chicks poo to keep the nest clean! ................we have learned from many years of cameras in nest boxes that there is "many a slip between cup and lip!" - we will see - I will post an update blog here as (and if!) things progress - in the meantime, enjoy the view ...... CLICK HERE!
-Things to do in BUXTON - "Explore Buxton" Click Here !! - -Or Our Local Paper - Buxton Advertiser - Click Here!! .......-
-Like to read a quick, one page guide, to the joys of Buxton? - (Written recently by the Sunday Times) - and why you should visit this lovely Town!? CLICK HERE
Met Office - Longer Range Forecast, for the entire UK ©Met Office.:
........... Monday 30 May - Wednesday 8 Jun
Eastern areas are likely to be cloudier with a higher risk of showers and breezier at the start of this period, with drier weather and the best of the sunshine probably in the west. The east is also expected to see cooler than average temperatures over this period. Into the rest of next week, it will likely be mainly fine and dry, but occasional rain and showers, mainly in the east. Feeling warm in any sunshine. Towards the bank holiday weekend this pattern is likely to continue, with some dry weather and sunny spells, but also some more unsettled and wet conditions developing for some parts of the UK. Any stronger winds likely easing and temperatures likely remaining around average for most.
Wednesday 8 Jun - Wednesday 22 Jun
This period is likely to bring generally settled conditions, with most areas being drier than average overall. Winds will probably be generally light, although the odd spell of stronger winds will still be possible. Temperatures possibly warmer than average, although colder conditions could extend from the northeast at times...................................

As well as my own weather station in Harpur Hill in Buxton, at www.buxtonweather.co.uk I am proud to be a member of the Team of Volunteers, manning the Met Office Climatological Station, on the Slopes, near the Crescent in Buxton - would you like to know more about that weather station? - what it does - and its incredible 150+ years history? - If so please CLICK HERE ----------------
**** ***
---- -----
Weather Links

See an almost live (updated every 30 seconds) image over Buxton Rooftops looking North towards Brown Edge - Height 340 Mts.
Please note that this image will be tilted down and left, to show more of the road conditions, in snowy periods


Press here for a Live Video Webcam, on the A537 Cat & Fiddle Road


Click on the icon below to see the latest RAIN ALARM - Radar picture (This link does not work for Smartphone's - only laptops and desktops)


A LIVE WEBCAM on the A53 Leek Road, at the famous Winking Man Pub CLICK HERE!




Like to see the weather at The Cat & Fiddle Pub (On the A537 Macclesfield Road) Height 518 Mts - CLICK HERE!

DCC Camera just near The Cat & Fiddle Pub (On the A537 Macclesfield Road) Height 518 Mts - CLICK HERE!


DCC Camera A515 Ashbourne Road near Hurdlow - CLICK HERE!


DCC Camera A623 at Tideswell Crossroads - CLICK HERE


Like to see the weather at Flash Bar Stores Quarnford, near The Travellers Rest Pub, (On the A53 Leek Road) Height 469 Mts- CLICK HERE:!


A LIVE WEBCAM at Electronic Security Installations Ltd, on Bingswood Trading Estate in Whaley Bridge - overlooking the River Goyt
CLICK HERE:


Click below to a webcam at the HSL site, above Harpur Hill, Buxton - Location SK055705 - Height 390 Mts (Updated every 30 minutes) - CLICK HERE:!



Like to see where the Jet Steam is RIGHT NOW? - Click Here


Like an explanation of how the Jet Stream affects our weather? - CLICK HERE

LIGHTNING - Click Here to View Current Lightning Activity Over the UK




Site and Weather Station Maintained by Michael Hilton, Buxton, Derbyshire
© M Hilton - All Rights Reserved

Conditions At:
4:57 on 26/5/22

Outside, Shade Temperature

9.3

°C

Dew Point
7.1°C
Humidity
86%
Barometer (corrected to sea level)
1017mB
Rate 0.03mB/hr
Wind Figures:
Wind Speed
4mph
Wind Direction
SW
Wind Chill (How the temperature actually "feels")
8.8 °C
Wind Currently Gusting To
16mph
Peak Wind Gust Today
21mph at 1:53
Rainfall Figures:
Rainfall Today (Since Midnight)
0.0 mm
Rainfall in the last hour
0.0 mm
Total Rainfall in May
63.6 mm
Total Rainfall in April
71.6 mm (2.82 inches)
Total Rainfall in March
45.0 mm (1.77 inches)
Total Rainfall in February
304.8 mm (12.00 inches)
Total Rainfall in January
71.6 mm (2.82 inches)
Total Rainfall in December
239.6mm (9.43 inches)
Total Rainfall in November
115.2 mm (4.54 inches)
Total Rainfall in October
153.4.2 mm (6.00 inches)
Total Rainfall in September
114.4 mm (4.50 inches)
Total Rainfall in August
87.4 mm (3.44 inches)
Total Rainfall in July
98.6 mm (3.88 inches)
Total Rainfall in June
23.2 mm (0.91 inches)
Total Rainfall in May
223.6 mm (8.80 inches)
Total Rainfall in April
17.0 mm (0.67 inches)
Total Rainfall in 2021
1612.2 mm (63.48 inches)
Total Rainfall in 2020
1531.86 mm (60.31 inches)
Total Rainfall in 2019
1424.2 mm (56.07 inches)
Total Rainfall in 2018
1038.8 mm (40.90 inches)
Total Rainfall in 2017
1250.4 mm (49.23 inches)
Total Rainfall in 2016
1055.2 mm (41.54 inches)
Total Rainfall in 2015
1191.20 mm (46.90 inches)
Total Rainfall in 2014 (For earlier figures see the link top left)
1245.60 mm (49.04 inches)
Sunshine Figures:
Sunshine hours on Wednesday (Sunrise to Sunset) (Updated after Sunset)
2 . 13 Hours
Sun Hours in May
99 . 81 Hours
Sun Hours in April
155 . 87 Hours
Sun Hours in March
165 . 64 Hours
Sun Hours in February
43 . 77 Hours
Sun Hours in January
58 . 22 Hours
Sun Hours in December
20 . 16 Hours
Sun Hours in November
40 . 02 Hours
Sun Hours in October
77 . 67 Hours
Sun Hours in September
122 . 24 Hours
Sun Hours in August
103 . 38 Hours
Sun Hours in July
177 . 15 Hours
Sun Hours in June
183 . 78 Hours
Sun Hours in May
118 . 51 Hours
Sun Hours in April
208. 82 Hours
Sun Hours in 2021
1242.25 Hours
Sun Hours in 2020
1330.53 Hours
Sun Hours in 2019
1316.47 Hours
Sun Hours in 2018
1431.27 Hours
Sun Hours in 2017
1096 . 00 Hours
Sun Hours in 2016
1219 . 59 Hours
Sun Hours in 2015
1239 . 88 Hours
Sun Hours in 2014(For earlier figures see the link top left)
1226 . 69 Hours
Monthly Average Temperatures:
Average Temp in April
7 . 68°C
Average Temp in March
6 . 32°C
Average Temp in February
4 . 98°C
Average Temp in January
4 . 08°C
Average Temp in December
4 . 80°C
Average Temp in November
6 . 39 °C
Average Temp in October
10 . 39 °C
Average Temp in September
14 . 39 °C
Average Temp in August
14 . 41 °C
Average Temp in July
16 . 82 °C
Average Temp in June
14 . 66 °C
Average Temp in May
8 . 57 °C
Average Temp in April
5 . 75 °C
Average Temp in March
5 . 73 °C
Average Temp in 2021
8. 66 °C
Average Temp in 2020
8. 93 °C
Average Temp in 2019
8. 65 °C
Average Temp in 2018
8. 87 °C
Average Temp in 2017
9. 60 °C
Average Temp in 2016
8. 95 °C
Average Temp in 2015
8. 54 °C
Average Temp in 2014 (For earlier figures see the link top left)
9. 24 °C
Today's Temperature Extremes:
High Temperature
11.3°C at 0:00
Low Temperature
9.2°C at 4:12
Other Extremes (Since March 2003)
Highest Shade Temperature
31.9°C at 15.25 on 25th July 2019
(Previous highest was 30.7°C at 15.51 on 9th August 2003)
Low Temperature
-11.0°C at 07:35 on 20th December 2010
Highest Daily Rainfall (Midnight to Midnight)
77 mm (3.03 inches) on 10th August 2004
Highest Monthly Rainfall
308 mm (12.13 inches) in February 2020
(Previous highest was 287mm (11.30 inches in August 2004)
Highest Daily Sunshine Hours
16. 36 Hours on 27th June 2018
(Previous highest was 16. 19 Hours on 16th June 2010)
Highest Monthly Sunshine Hours
281. 87 Hours in July 2006
Highest Wind Speed Gust
88.08 mph on 21st January 2012
Astronomical Data
Sunrise
4:52
Sunset
21:16

Moon Phase Indicator Below - Click on the icon for an explanation, and details of the moon's phases, and a calculator of the moon's phase on any day in history - or in the future!

Moonrise
3:39
Moonset
16:51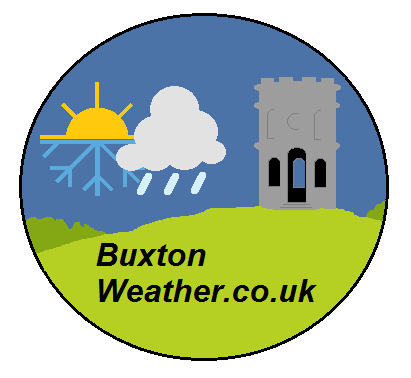 Please feel free to link your website to this site (an email informing me would be appreciated) © M Hilton - All Rights Reserved